What are people saying about Flawless Straightening Brush?

★ ★ ★ ★ ★
I tried my Flawless Straightening Brush for the first time today and it did not disappoint. My hair is super straight, super shiny and feels amazing. I used it on freshly washed hair too so it makes it even more surprising as my hair usually doesn't look great until the next day. But this, this is a game changer and would highly recommend.
-Lori

★ ★ ★ ★ ★
I've tried many of these types of products and this one is the best by far! It was super quick, easy, and left my hair looking amazing! It is also a great price compared to some others out there. You won't regret this purchase! :D


★ ★ ★ ★ ★
I use this on my toddlers hair . And it is very light on the heat . I love the way this straightens her hair

★ ★ ★ ★ ★
Just received today and had to try it right away. Heats up fast and works amazing. Super happy with my purchase.
NOW FOR ONLY $39.99
★ ★ ★ ★ ★5.0

5 temperature levels for different hair types(266℉-410℉)

International dual voltage 110-240V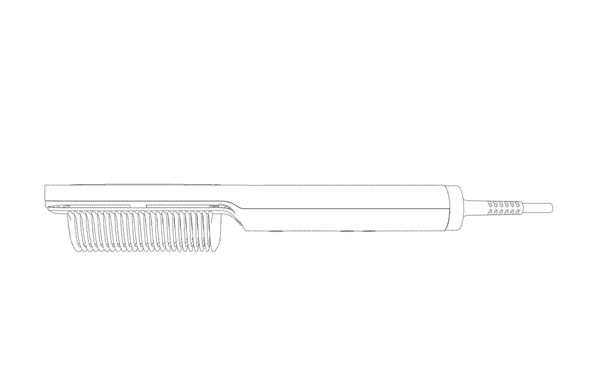 Tourmaline Ceramic Bristles & Edges - Smoothes strands as you brush hair with one easy action. Heated edges create smooth ends, flips, and even loose waves! Negative Ion Booster: Releases negative ions into the hair to combat frizz and flyaways
Infrared Heat Technology: Heats hair gently, sealing the cuticle and creating styles that last!
Temperature control from 190ºF-450ºF Complete customization in styling. Style on lower temperatures for a smoothed result with texture. Style at higher temperatures to achieve a smoother sleeker result.
Easy to use design - Ergonomic and comfortable soft touch grip for effortlessly easy styling!

Use on 100% dry hair detangle knotted and coarse hair with a brush prior to using the heat styling brush for best results Remove any hair caught in the brush. With the brush cleaning comb.

Choose your bundle & save big on your order now!
Q: Do the teeth get hot? Is it going to burn my scalp if I use it on the top of my head?
A: Our product has Anti- Scald Design which allows you to enjoy straightening worry-free from burning & shocking. The patented V-shape flame-retardant plastic frame will protect you from every angle. You can literally put our product on scalp and feel nothing.
Q: Does it work for really curly hair like natural curly hair? Or does it work well on mixed hair? Thick and very curly?
A: Flawless Straightening Brush has 5 heat settings (266℉ - 410℉), which are easily selectable and can be adjusted to individual needs. No matter what hair type you have, even the thick and frizzy locks, you can always find the right setting to tame it.
Q: Will this work for short hair?
A: Yes! Our product is designed to be used on all hair types and all hair length. So It does work perfectly on short hair!
Q: Does this work with wet hair too?
A: We don't recommend to use it on wet hair, because it would hurt hair when its cuticle is open on wet state. We suggest you drying the hair before using.
Q: What is the plug standard of this product?

A: The plug is US standard only. You may need an appropriate adaptor to the standard of destination country.
Q: Do we simply straighten our hair with this straightener brush like a regular comb?
A: For better experience, we suggest to straighten your hair perfectly as the following:Use only on dry hair;Cover less hair in one stroke once for thick and curly hair;Brush Slowly at a constant speed in a pulling motion;Make Sure your hair gets deep into the inner area of the brush.
Follow us on Instagram
@flawlessflatiron
DISCLAIMER: Products contain herbs and essential oils, if you are allergic to these types of items please don't use the products, we are not liable or responsible for illness or allergic reaction. Please read instruction and always do the 24 hour skin test as stated.